Want to know more about Team Fan Apparel (formerly Campus Colors)?
Since its beginning almost 30 years ago, Team Fan Apparel has always offered officially licensed, authentic collegiate gear at fair and reasonable prices. From one generation to the next, our second generation family owned business has served as the go-to source for collegiate apparel and accessories, becoming a one-stop-shop for merchandise from over 200 colleges and universities big and small. As the times have changed, so has the way we do business, however, one thing remains the same-our goal and commitment to our customers. Through our store on the Team Fan Apparel website (teamfan.shop) and our Amazon Storefront (amazon.com/teamfanapparel), we're able to provide sports fans from all over the world a chance to show off their team spirit by providing them with the best apparel and the newest accessories all year long!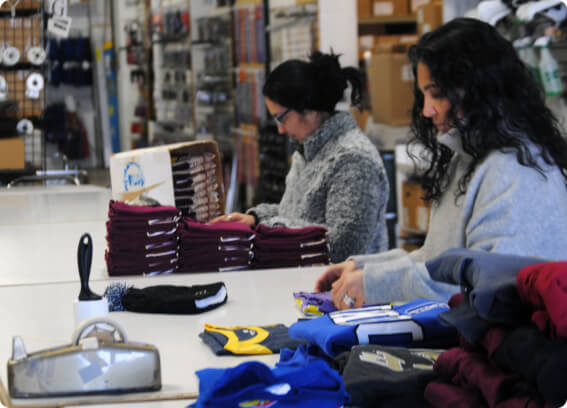 High-quality pro team & ncaa merchandise at fair prices
Team Fan Apparel has grown into a reputable source for authentic sports gear and accessories at fair and reasonable prices for men, women, and children! We only carry officially licensed designs from top vendors such as Champion, Original Retro Brand, Logo Brands, Zephyr and our own in-house Team Fan Apparel branded products. Over 80% of our products are custom designed for us and always features official team colors, logos and lettering. We concentrate on providing timeless graphics and designs that create a look to showcase your team spirit for many years to come. We focus on providing value in our products so that you can shop with confidence that you are purchasing a quality product at a fair price. All of our products go through various quality checkpoints to ensure the best possible product ends up in our customer's hands. We know that you take your fandom seriously and that's why we promise to give you nothing but the best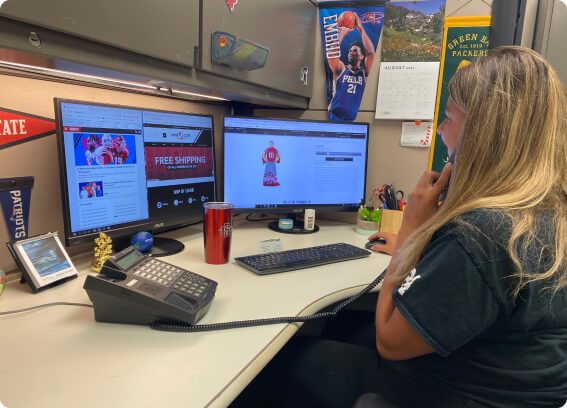 Friendly and knowledgeable customer service
If you have questions, we have answers! Our friendly and knowledgeable customer service team is happy to answer any questions you might have about the goods we carry or specifics pertaining to your order. We take pride in the fact that all of our employees share a deep passion for sports and are extremely knowledgeable about teams, players, and current sporting events. Technology isn't always perfect and we are here to help with any and all questions you might have. We want you to be happy and satisfied with your experience with Team Fan Apparel. Whether you're shopping on our website or browsing our products on Amazon, we are here to help. We hand select all of our apparel and novelty items, so if you have any questions or concerns, feel free to reach out. Our customer service team is available by phone or by e-mail and will respond to your inquiries within 24 hours guaranteed!
Officially Licensed
Merchandise

Fast and Free Shipping
on Orders Over $25!

High-Quality
Products